ARL to Participate in 13th International Conference on Mercury as a Global Pollutant
June, 2017
ARL will be a highly visible and important presence at the 13th International Conference on Mercury as a Global Pollutant (ICMGP2017

) in Providence, RI July 16-21, 2017. Mercury is a complex and multifaceted contaminant that is a concern to human health and wildlife. The theme of the conference is on understanding the multiple factors that accelerate and attenuate recovery of mercury contamination in response to environmental inputs on local to global scales. Nearly 1000 abstracts from scientists in 57 countries have been received. NOAA ARL will be a Gold- Level sponsor of the conference, alongside the U.S Forest Service, the National Atmospheric Deposition Program, and the National Institute for Minimata Disease (Japan).
ARL's Dr. Winston Luke will co-host (along with Dr. Mark Olson from the National Atmospheric Deposition Program and Dr. Eric Prestbo from the Tekran Corporation) a one-day workshop on "Best Practices for Measuring Atmospheric Mercury" the day before the conference begins. The workshop will revisit and discuss best practices to accurately measure mercury species in the atmosphere using commonly-deployed monitoring equipment. The workshop will serve two primary purposes: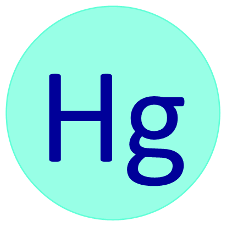 Symbol for the chemical element mercury.
The first is to discuss and revisit the Standard Operating Protocols, promulgated after a 2008 gathering of mercury measurement experts, for the operation of Tekran mercury speciation equipment deployed throughout the National Atmospheric Deposition Program's Atmospheric Mercury Network (AMNet). Discussions will center on lessons learned and insights gained, with respect to data collection and data reduction protocols, after nearly eight years of collective experience in deploying and operating network monitoring instrumentation.
The second purpose is to summarize and discuss recently- documented artifacts in the measurement of Gaseous Elemental Mercury, Gaseous Oxidized Mercury, and Particulate-Bound Mercury. Group discussions will focus on identifying ambient conditions and chemical/physical parameters associated with observed measurement artifacts; attempts to bound the range of uncertainty in the measurement of atmospheric mercury species; efforts to mitigate the measurement biases and artifacts and/or to correct ambient data; and the current development of novel measurement and calibration methodologies.
In addition to the workshop, Dr. Luke and three other ARL scientists will each present their mercury research at the Conference.
Dr. Xinrong Ren will discuss measurements at the ARL-Grand Bay National Estuarine Research Reserve AMNet site in a presentation entitled "Long-term Monitoring of Mercury Speciation at a Coastal Site in the Northern Gulf of Mexico."
Dr. Mark Cohen will discuss variations in simulation results using differing modeling frameworks in his presentation "Comparison of Lagrangian, Eulerian, and Hybrid Methodologies."
Mr. Paul Kelley will discuss ARL's latest research to understand and evaluate the often-subtle sources of measurement accuracy degradation in network operations in his presentation entitled "Development and Testing of a GEM Standard Addition System to a Speciated Mercury Analyzer."
Dr. Winston Luke will provide a summary and analysis of the long-term data record of atmospheric mercury at the Mauna Loa Observatory in his presentation entitled "Speciated Atmospheric Mercury Measurements at the Mauna Loa, Hawaii AMNet Site: Patterns, Trends, and Sources."
For More Information, contact: Ariel Stein