ARL Weekly News – June 2, 2023
Canadian Wildfire Smoke Seen Across the US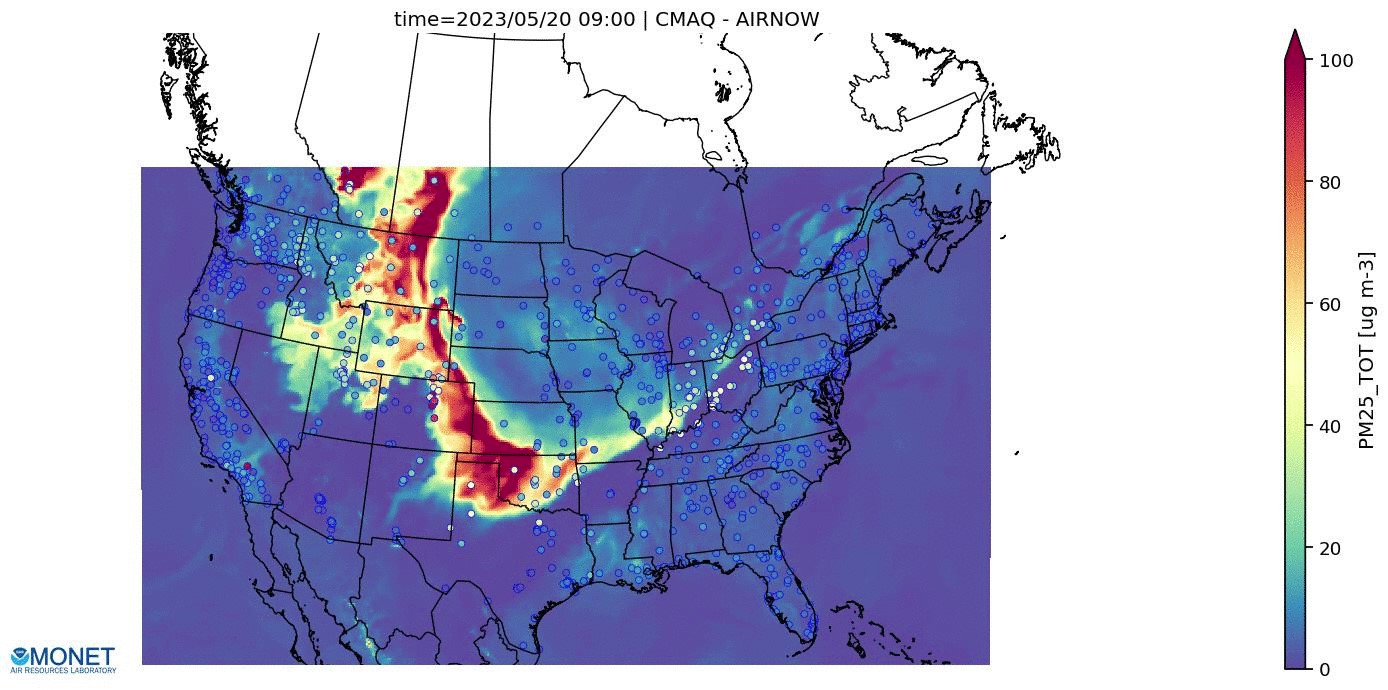 NOAA's National Air Quality Forecast Capability (NAQFC) performed well in predicting air quality impacts of Canadian wildfires across the US. A busy wildfire season for Canada has brought smoke and other fire emissions to the US, covering a large portion of the nation. The Canadian wildfires affected states along the East coast from Maine to Washington DC, with New Jersey issuing a code orange alert for May 31.
NOAA OAR Coordinates Agency Greenhouse Gas Monitoring Activities 
NOAA held an agency-wide meeting June 5-6, 2023 to coordinate a number of agency-wide activities to provide top-down monitoring of the US's atmospheric greenhouse gas fluxes and their sources. Researchers will scope how best to incorporate atmospheric measurements at local, national and regional levels into climate and land surface models. Nearly every OAR lab and program participated in the workshop, organized by CPO, ARL and GML.
NOAA representatives held this meeting to address knowledge gaps in the top down approach, which combines space and surface-based observations with the outputs from models to determine total greenhouse gas concentrations. OAR's goal is to develop products that will enable reference grade measurements of greenhouse gases.
Measurements of Greenhouse gas emissions are a key requirement of the Paris Agreements on climate change, and a number of nations and agencies are working to meet this requirement. The World Meteorological Organization recently formalized the Global Greenhouse Gas Watch (G3W) to fill critical information gaps and provide a framework for top down emissions estimation.
ARL Prepares for the Summer Field Measurements
Scientists at ARL – Xinrong Ren, Nebila Lichiheb, Phil Stratton, Paul Kelly, Winston Luke, Mark Heuer, and intern Kaitlin Escobar – are getting ready for the summer 2023 field study in Washington, DC-Baltimore and New York City areas. Coordinated research flights and mobile and surface stationary measurements will be conducted over the Northeast Corridor between Washington, DC and New York City to measure air quality and greenhouse gas (GHG) emissions. This research effort is in collaboration with University of Maryland, Johns Hopkins University, Princeton University, Yale University, Maryland Department of Environment (MDE), Northeast States for Coordinated Air Use Management (NESCAUM) and University Research Foundation. Research flights will be mainly conducted on sunny and hot days to characterize high ozone events and urban GHG emissions. A Cessna 402 research aircraft and an instrumented Chevy Suburban vehicle will be used in this study to make measurements include meteorology and chemical parameters such as ozone, nitrogen oxides, volatile organic compounds, carbon monoxide, black carbon, ammonia, and greenhouse gases including carbon dioxide and methane. Data collected from this study will be further analyzed to investigate summer ozone photochemistry and to estimate urban GHG emissions. One of the goals is to provide policy-relevant scientific information for regulatory agencies in Maryland, New York, and Connecticut.