NOAA and Partners Begin Arctic Greenhouse Gas Study
From August 3 through August 30, 2013, NOAA's Air Resources Laboratory (ARL), along with partners from Harvard University's Anderson Group and Aurora Flight Sciences Corporation, will conduct airborne flights between Prudhoe Bay and Toolik Lake to track carbon gas emissions along Alaska's North Slope. The study, called Flux Observations of Carbon from Airborne Laboratory or FOCAL, is funded by the National Science Foundation (NSF). FOCAL is a new airborne instrument system designed for measuring fluxes of carbon dioxide and methane, two of the most important greenhouse gases contributing to the warming of the planet. The system combines ARL's Best Aircraft Turbulence probe with a powerful, new, fast response trace-gas analyzer from Harvard's Anderson Group. The instruments are carried on the Centaur aircraft, a light twin-engine DA-42 airplane operated by Aurora Flight Sciences Corporation. At this time, collecting measurements with a system like this is the most practical and immediate way to get widely distributed observations. Climate models require observations in order to evaluate their performance. Current climate models do not adequately account for the impact of climate change on the permafrost region and how the permafrost thawing may affect regional and global climate. Much of the first scientific work will be to assess the strength and distribution of carbon dioxide and methane into the atmosphere and will be supported by flux measurements on the ground.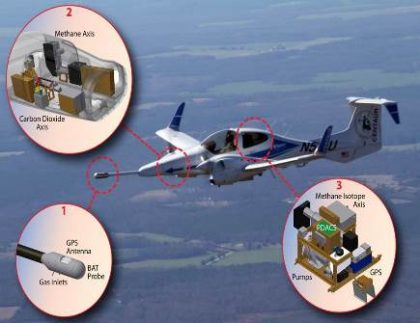 Centaur aircraft carrying instruments for Alaska study. Photo Credit: Harvard
Background: Since 2010, NOAA and its partners have been working on the development of a system that could measure fluxes of methane gas from an aircraft flying over the permafrost region. In June 2012, the group was awarded an NSF grant for research to be conducted in the permafrost region of Alaska. Test flights were successfully conducted in the early part of 2013 to prepare the aircraft and the instruments for this Alaska study.
Significance: On average the Arctic Tundra has warmed faster than any other area on Earth. This warming has led to thawing of the permafrost (frozen soil, rocks, and water), which leads to numerous consequences. One of these consequences is the release of stored methane and carbon dioxide gases into the air as the ice melts. As more of these greenhouse gases are released, the potential exists for further warming of the planet, which leads to further thawing of the land and ice releasing more greenhouse gases, and so on. It is very important to understand how much and how widespread these gases are being released over high latitude areas and from which land surfaces. It is also vital to assess the feedback potential (if any) to know how carbon emissions are changing over time with changes in temperature.
For More Information, contact: Bruce Baker