LaToya Myles selected to receive the 2016 Technology All-Stars Award
October, 2016
Congratulations to Dr. LaToya Myles for being selected to receive the 2016 Technology All-Stars Award at the upcoming Technological Recognition Luncheon during the 21st Women of Color STEM Conference in Detroit, MI on October 14, 2016.
The Women of Color STEM conference has been recognizing the achievement of women in science, technology, engineering, and math (STEM) careers for more than 20 years. The awards have earned widespread praise for offering unique opportunities for women to parlay their career successes into gains for themselves and the STEM community as a whole.
Dr. Myles has worked actively as an advocate for STEM and continuously works to create a pipeline for under-represented students to pursue careers in atmospheric science, environmental research, and other disciplines. She has mentored numerous undergraduate and graduate students through formal programs sponsored by NOAA, the Howard Hughes Medical Institute, and the American Geophysical Union. As a mentor, she provides students with professional development and research opportunities in addition to their academic training and serves as a stellar example of professional scientific achievement for traditionally under-represented groups. She is also actively involved in K-12 outreach and frequently speaks to students about career exploration in science and technology.
For More Information, contact: Richard Artz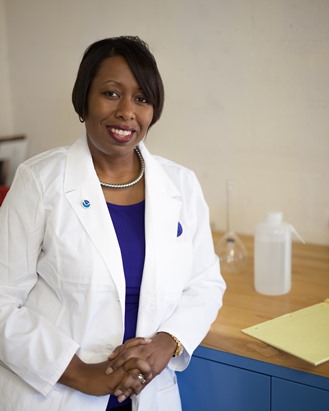 Dr. LaToya Myles with NOAA's Air Resources Laboratory. Photo: NOAA