HYSPLIT Use in February for Emergency Management.
Several NOAA Weather Forecast Offices (WFO) used the ARL developed HYSPLIT tool for a wide range of emergency management situations in February 2021.
Vessel Fire; Port of Tacoma, Washington. Feb 17, 2021.
The fire began aboard a fish processing vessel carrying chlorine and ammonia. WFO Seattle supported  the City of Tacoma Emergency Management during a HAZMAT vessel fire  at the Port of Tacoma  that began early Thursday, Feb 17, 2021 and lasted several days.  Several weather forecasts were provided, and HYSPLIT models were run for ammonia and chlorine.
Media coverage included:
Train Derailment; Cameron, Texas. Feb 23, 2021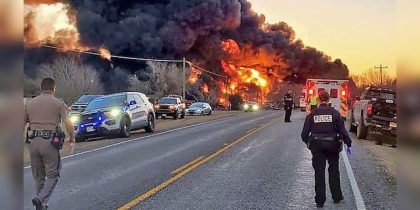 An 18 wheeler collided with a train near Cameron, Texas on Feb 23.  Train cars carrying coal, petroleum and gas exploded; the fire was labeled a hazmat situation.  Local authorities created  a half-mile radius evacuation zone near the site. WFO Fort Worth provided HYSPLIT runs and spot forecasts at the request of the local Emergency Managers.
Media coverage of the incident included:
Fox News (external link)
NBC News (external link)
BBC News (external link)
Recycling Plant Fire
A foam recycling plant sparked a five-alarm fire in Richland TX on  February 25, 2021. The Fort Worth/Dallas Weather Forecast Office sent HYSPLIT model data and spot forecasts to emergency management.  Haltom City Emergency Management provided the dispersion maps via social media.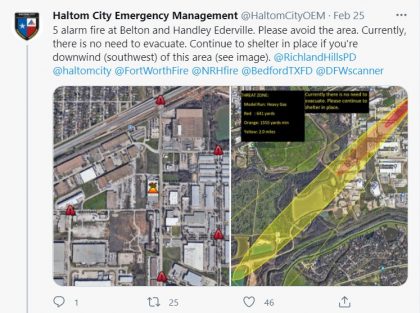 Media coverage included:
Dallas News (external link)
Star Telegram (external link)
NBC DFW (external link)