Major HYSPLIT Upgrade Scheduled June 12
June 2019
ARL's HYSPLIT model will experience a number of behind-the-scenes upgrades when NOAA's National Centers for Environmental Prediction (NCEP) implements a major upgrade to the agency's Global Forecast System-Finite Volume Cubed (GFS-FV3) on June 12, 2019. The upgrades are not to the HYSPLIT model itself; rather, they're changes to the meteorology used to run the model. Essentially, HYSPLIT's forecasting capabilities will improve because it will have better information to work from.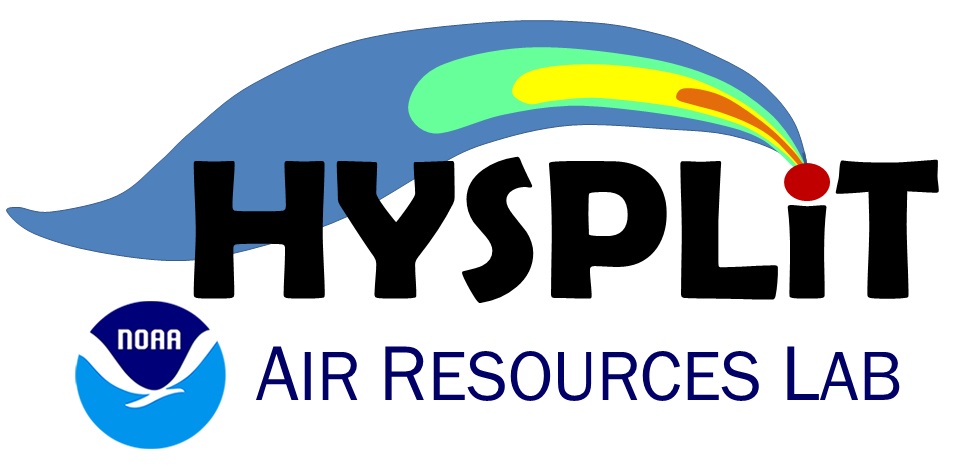 Key features of this upgrade, hysplit.v.7.6, include:
• Conversion from half-degree hybrid-level* GFS output to quarter-degree: ARL's code improves spatial resolution which, in turn, could lead to improved HYSPLIT forecasts in some meteorological situations. (*following terrain near the ground and pressure levels higher up);
• Conversion of High-Resolution Rapid Refresh (HRRR) native-level output to HYSPLIT-format: To date, HRRR model data has been processed and converted via ARL's READY website. Converted data will now be provided via NOAA's Web Operations Center, enabling faster access to HYSPLIT with finer-scale meteorological output (HRRR's 3 kilometer resolution replaces the Rapid Update Cycle's 20km). Dispersion modeling is expected to improve in some meteorological situations, such as sea breezes or mountainous terrain.
• Addition of trajectories for hypothetical volcanic eruptions in the Washington Volcanic Ash Advisory Center's (VAAC) area of responsibility: NCEP runs HYSPLIT for volcanic ash forecasts. The purpose of these trajectories (graphic products) is to improve situational awareness in the event of an eruption. ARL also included an optional ashfall velocity algorithm, currently in use by the New Zealand VAAC, which can have a slight impact on the largest ash particles.
About HYSPLIT
HYSPLIT is a state‐of‐the‐art analytical tool initially developed by ARL over 30 years ago to produce operational and research‐grade dispersion products. The HYSPLIT system is comprised of five components: meteorology, smoke, dust, transport and dispersion, and volcano trajectories, and it is run by the National Weather Service's Weather and Climate Operational Supercomputing System. HYSPLIT remains one of the most widely used models for atmospheric trajectory and dispersion calculations, thanks to continual development and enhancements (which do not happen on a regular schedule since they are driven by science). Future upgrades are already in work, including the use of ensemble meteorology to provide information regarding uncertainty. Since no one forecast is perfect, uncertainty will help produce a range of forecast possibilities leading to a higher probability of accuracy.
About GFS
GFS is a weather forecast model produced by NCEP and used by operational weather forecasters. It provides a dataset for numerous atmospheric and land-soil variables spanning the entire globe.