There are four options under the Display Data menu tab:

Check File - display information about meteorological data set (discussed previously),
Contour Map - contouring the data fields,
Text Profile - a text profile listing of all meteorological variables at a selected point,
Grid Domain - the spatial domain of the grid.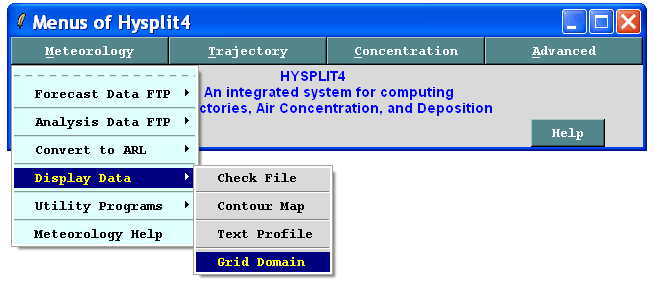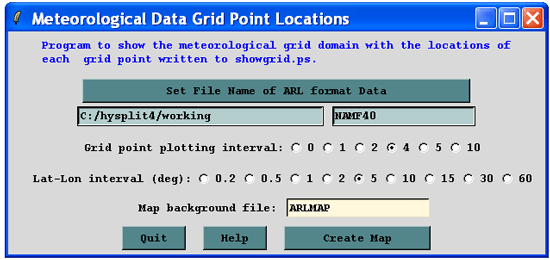 The Grid Domain program creates a Postscript graphic of the meteorological data set domain, which can be useful to determine the area covered by a data set. The domain can be displayed by selecting a meteorological data file, in this case the 40 km lambert-conformal projection of the NAM model (again, keep data files in a directory without spaces in the name).  Every fourth grid point will be displayed (set the grid point plotting interval to 4) and latitude-longitude lines will be drawn every 5 degrees (set lat-lon interval to 5). Shown below is the NAM 40 km grid domain.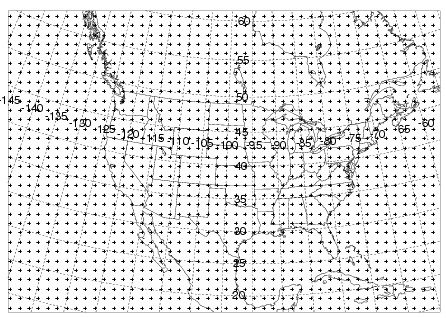 NAM 40 km Domain.

Convert Postscript to Gif
Under the Meteorology, Trajectory, and Concentration menus there is a submenu item called Utility Programs. Utility programs that are specific to each main menu reside in this submenu. In every Utility Program sub menu there is a program called Convert Postscript that can be used to convert the Postscript graphic into other graphic formats such as gif, jpg, bmp, etc.

The Convert Postscript menu will display the last created Postscript filename, if this is not the desired graphic to convert, it should be replaced with the appropriate name. The output file extension (gif, jpg, bmp, etc) represents the conversion format. The conversion process uses Ghostscript to read the Postscript file and ImageMagick to convert that file to a variety of other supported formats (conversion to gif is the default). In this example, the showgrid.ps file is converted to showgrid.gif. The slider bar determines the size of the output graphic in pixels per inch. The default value of 70 will produce an output frame of comparable size to the input graphic. The checkboxes permit the creation of a multiframe animation in one file or multiple output files if the "Frames" option has
been checked. The "Crop" option eliminates the white space around the graphic. However this option may produce inconsistent results in conjunction with the animation feature.