There are six options under the Analysis Data FTP menu tab, all of which access NOAA computer systems.† The ARL and NOAA options access the Air Resources Laboratory's FTP server, the NCEP option accesses the National Centerís for Environmental Predictionís FTP server, and the NOMADS option accesses the NCEP NOMADS server.† All data available from the ARL server have already been converted to a HYSPLIT compatible format.† Note that ARL analysis data always consist of one file with multiple time periods, while the NCEP data consist of one GRIB file per time period wich is then processed in sequence to create one multi-time period file.† NCEP files are only available for the last 24 hours.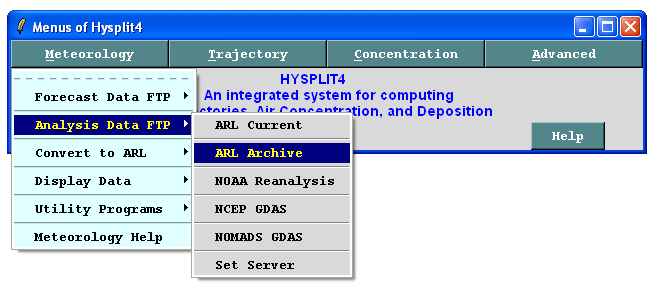 ARL Current - access to analyses which consist of time series of initialization files from the NAM or GFS forecasts for the last 48 hours.
ARL Archive - discussed in more detail below.
NOAA Reanalysis - access to monthly 2.5 degree NCAR/NCEP files from 1948 to present from the ARL server.
NCEP GDAS and NOMADS GDAS - access to the GDAS final analysis GRIB data. These files are converted to HYSPLIT format over a user chosen regional domain during the download process.
Set Server - modify the location of the ftp servers used by the HYSPLIT GUI.
Note that the menu may permit the selection of data files that do not exist without displaying a special warning message. For further information on the use of data archives see the HYSPLIT User's Guide.
ARL Archive
The data on the ARL server covers 4 geographic domains: the EDAS for North America, the GFS final analysis (FNL) for the northern and southern hemispheres, and the GDAS for the globe.† The EDAS is available on a reduced resolution (80 km) grid prior to January 2004. Thereafter, the EDAS is available only at the 40 km spatial resolution.† The EDAS and FNL files are selected according the to year and half-month (001 for days 1 to 15 and 002 for days 16 to the end).† The GDAS files are weekly with the week of the month represented by numbers 1 to 5. Prior to selecting Get Data File, a valid Email address should be entered into the password field.† A percent complete message will appear indicating the FTP is in progress. Another message will appear when the FTP process is complete.