There are five options under the Forecast Data FTP menu tab for retreiving forecast meteorological data.† The ARL options access the Air Resources Laboratory's FTP server and the NCEP options access the National Centerís for Environmental Predictionís FTP server.† All data available from the ARL server have already been converted to a HYSPLIT compatible format.† The NCEP menuís access GRIB data and these data are converted during the download process.† Note that ARL forecast data consist of one file Ė the most recent forecast available, while the NCEP data consist of one GRIB file per forecast time.† Each one is processed in sequence. †The last several forecast cycles from the NCEP server are available for download. The option to "Set Server" allows the user to modify the location of the ftp servers used by the HYSPLIT GUI.

FTP Processed Data from ARL
The forecast data on the ARL server covers 3 geographic domains.
North America
NAM (North American Mesoscale - 12 and 40 km),
RUC (Rapid Update Cycle - 20 km),
AFWAMM5 (Air Force Weather Agency MM5 - 15 and 45 km).
Northern and Southern Hemispheres on 91km polar-stereographic grids.
GFS-NH (Global Forecast System - northern hemisphere),
GFS-SH (Global Forecast System - southern hemisphere),
Global latitude-longitude grids
GFS - 1 degree, 3 hourly to +3.5 days,
GFSX - 1 degree, 6 hourly to +7.5 days,
GFSLR - 2.5 degree, 12 hourly from +8 to +16 days.
Prior to selecting Get Data File, a valid Email address should be entered into the password field.† A percent complete message will appear indicating the FTP is in progress.† Another message will appear when the FTP process is complete.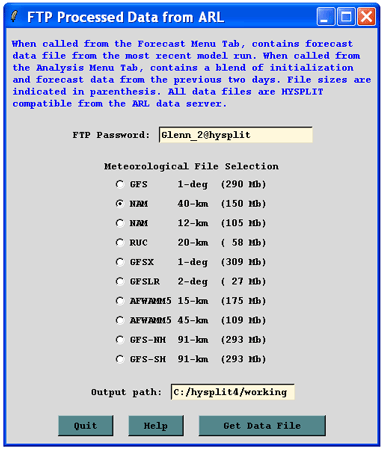 More information on the forecast meteorological data can be found on the
READY website.