HYSPLIT Air Toxics Workshop
Introduction: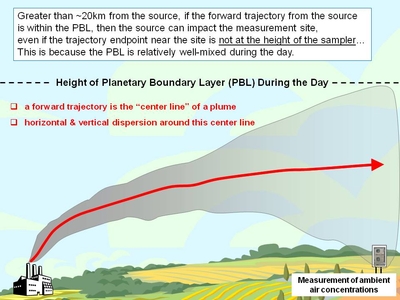 A one-day training session on the application of HYSPLIT to model the atmospheric fate and transport of air toxics was given Aug 24 2009 in Mexico City. The course was part of a week-long workshop under the auspices of the Commission for Environmental Cooperation (CEC).
This one-day course was given by Mark Cohen (NOAA Air Resources Laboratory) and Paul Bartlett (St. Peter's College and City University of New York). This course and the entire week-long workshop were organized by Henry Wohrnschimmel, Beatriz Cardenas, and Abraham Ortinez of the National Institute for Ecology, and Luke Trip of the CEC.
On this page, links are given to the "lecture materials" (e.g., powerpoint) files used in the training. In addition, several "hands-on" exercises were included in the training, and links to the data and programs necessary to carry out these exercises are also included on this page. Some of the material used in this class was taken from earlier HYSPLIT workshops.
Lecture Materials:
The course materials were divided into 14 segments, and materials for each segment are provided here in pdf and ppt formats. Note that animation in the ppt (powerpoint) files is not included in the pdf format, but, the entire content of each slide is present. If desired, users without PowerPoint can download and install a free PowerPoint viewer from Microsoft.
Hand's On Exercises:
The Hand's On Exercises are described in the lecture materials above. In the workshop, exercises were carried out in Windows XP. A following steps were taken to create the computational environment necessary to carry out the tests at the workshop. These steps would have to be carried out to re-create the computational environment necessary to do the exercises.
HYSPLIT and associated utilities (e.g., TCL, Ghostscript, etc) must be installed. HYSPLIT version 4.9, February 2009, was used for this training. It is possible that other versions of HYSPLIT
will work for the exercises described here (e.g., 4.8, etc), but this is not certain. HYSPLIT and associated utilities can be obtained from the HYSPLIT web page. (note — A registered version is not required to run these exercises, as forecast data was not used)
Additional files for the HYSPLIT4 installation folders must be downloaded and copied to c:\hysplit4\These files are contained in the following zip archive file: hysplit4_added_files.zip. This zip file is ~80 MB, and once downloaded, it must first be unzipped. For reference, a listing of all of the files in this zip archive is available at directory_listing_for_added_files.txt.Then, all of these additional folders must be copied to the c:\hysplit4\ folder, in order to run the HANDS-ON EXERCISES from the workshop. Note that the files in the exec folder are not included in the original HYSPLIT installation, and so when you copy this folder to c:\hysplit4\ there is no danger of overwriting any original HYSPLIT installation files.
Meteorological data for the exercises must be downloaded from the ARL Met Data Archives and placed in the c:\hysplit4\metdata\ folder.The files that must be downloaded are the following:
edas.aug08.001, edas.aug08.002, edas.jul08.002, and RP200808.gblThe three EDAS files can be obtained from the EDAS 40km Archive.The global file can be obtained from the NCAR Reanalysis Archive.These met files are very large (the EDAS files are ~500 MB, and the Global file is ~120 MB). Direct links to the files are the following (to download, right-click and choose something like "save target as" or "save link as")
edas.aug08.001
edas.aug08.002
edas.jul08.002
RP200808.gbl