Field Research Division – Idaho Falls, Idaho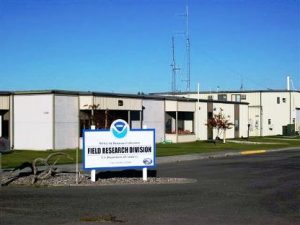 The Field Research Division (FRD) is located in the Upper Snake River Plain of Southeastern Idaho. The Division is composed of talented meteorologists, engineers and technicians well known in the field of atmospheric dispersion.
Originally a part of the U.S. Weather Bureau, FRD was created in 1948 for the purpose of describing the meteorology and climatology surrounding the area of the National Reactor Testing Station, now known as the Department of Energy's Idaho National Laboratory (INL). In a cooperative agreement between NOAA and the U.S. Department of Energy, FRD's capabilities are used to support the INL with meteorological measurements, mesoscale modeling and forecasts, and atmospheric dispersion modeling in the event of an accidental chemical or radiological emergency at the INL. In addition to supporting the INL, FRD scientists conduct field research that helps advance the understanding of processes occurring in the atmospheric boundary layer (the layer of the atmosphere closest to and most influenced by what happens at the Earth's surface). The field research includes collecting data to improve wind forecasts for wind energy and using atmospheric tracer technology, (

, 1.79 MB) to better understand the movement and dispersion of air pollutants.
For more Information, please visit FRD's Website
Mailing Address:
NOAA/ARL Field Research Division
1750 Foote Drive
Idaho Falls, Idaho, 83402
Phone: 208.526.2329
FAX: 208.526.2549
Map